Finally!
Enterprise-Grade VoIP Phone System For Sequin That Will Deliver The Cost Savings You Want WITHOUT Sacrificing
The Sound Quality And Dependability Of A Landline
The ONLY Business-Grade VoIP System That Guarantees High Call Quality, Reliability And Service Or 100% Of Your Money Back
If you've thought about upgrading your phone system to VoIP to save money but hesitated for fear of experiencing dropped calls, garbled sound quality and other notorious VoIP problems, we have the solution you've been looking for.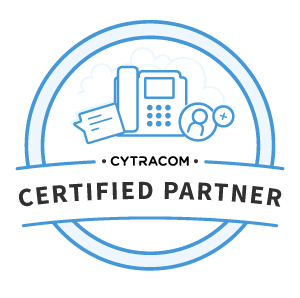 Thanks to our NEW Cytracom VoIP system, your Sequin based organization can enjoy all the advanced features, flexibility and significant cost savings of VoIP while getting the high-definition sound quality and rock-solid dependability of a landline.
We GUARANTEE our VoIP system will deliver high-definition sound quality and call dependability or we'll refund 100% of your money. No other phone-system provider in Sequin will make the same bold guarantee and stand behind it in writing like we do. That's how confident we are that you'll love our Cytracom VoIP phone system.
Save Time and Money. Instead of building-out or updating phone systems, hosted VoIP eliminates the need to buy equipment, software and licensing, reducing upfront costs up to 60%. Maintenance and updates are included and happen automatically.
Scale Freely. With plug-and-play capability, cloud-based hosted VoIP is a quick, affordable solution to organizational growth. You can seamlessly add phones across multiple locations on the same system to meet rapid business requirements.
Connect Employees. No matter if  your employees are located in Sequin or elsewhere, Cytracom's Hosted PBX services unite them with a single, unified phone system.
Rely on 24/7 Support. Support you can count on. Our support team is available 24/7/365.
Works with your existing business class firewall and router. Unlike other VoIP phones, our Cytracom system does NOT require you to incur the cost and hassle of upgrading your business class firewall or router and will work within your existing network.
Over 150 enterprise-class features available. Our VoIP system gives you an incredible number of easy and powerful options to take calls, route calls, handle voice mail and communicate. Whether you're making a simple phone call, faxing documents for signatures or holding a videoconferencing session, our system can deliver easy-to-use, top-quality service to get the job done without problems, complexity or failures.
Built-in monitoring and failover ensures your phone system is never "off-line." Thanks to Cytracom's technology, if any phone or connection point is knocked off-line, others pick up the calls automatically, essentially allowing the network to heal itself automatically.
HIPAA Compliant VoIP System.  It's not easy complying with all the government regulations, but with our phone system you won't have to worry about HIPAA compliance.  We will ensure your  phone system is 100% HIPAA compliant.
Want More Information? Call us for a FREE VoIP Assessment and LIVE demo of our phone system in your Sequin office. Call 726-842-8702 or send an e-mail to info@secureerpinc.com.