Our Passion is Your Cyber Protection, Worry Free Tech is What We Deliver.
HOW DID A CPA END UP FOCUSED ON PROVIDING CYBER SECURITY IT SERVICES?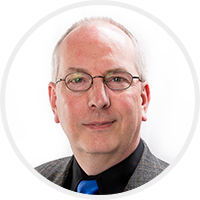 The late 80s and early 90s saw a technology boom & I was drawn to help clients select accounting (ERP) software for their company's needs and began Secure ERP in 1992. Installing and supporting business applications required a need to understand the computers, operating system, and networks on which these applications were running. IT service became a natural progression.
Within the past 5 years I've recognized the dangers of cyber criminals and realized I needed to not just focus on superior IT services, but to become a cyber security expert for the protection of not only my client's ERP data, but their computer network as a whole.
The widespread epidemic of ransomware makes that decision ever more clear every day.
Plus, I don't mind giving up doing any accounting or tax work. To me, this is critical for business owners.
Here's why businesses depend on Secure ERP for complete IT services and support:
NO Long Term Contracts – Excellent service every day is our contract with you, not binding, multi-year contracts that handcuff you to using us.
Reliable Cost Structure – Your cost will be the same every month. Easy to budget, no surprises.
Securing Your Data Comes First –  From the best enterprise class backup solution available to the best enterprise level ransomware protection, securing your business from cyber criminals trying to steal it from you is at the forefront of our minds and included as part of our Guardian Angel Protection.
'No Worries' IT IN or OUT of Your Office - Having your issue addressed by a skilled technician within 15 minutes gives you the peace of mind you need to run your business, not chasing after IT ghosts no matter where you're working or the time of the day (or night!).
True Proactive Approach - Beyond monitoring & updates, our Guardian Angel Protection Services include virtual Chief Technology Officer (vCTO) planning, employee training, & ultimately minimizes business interruption due to your technology.
Our custom service packages deliver what you need and want without overstepping the boundaries of your budget. From cloud services to data backup, Secure ERP is here to team up with you and your company for expert support.